Wondering how to go about repaying your student loan? FAME has pulled together what you need to know, and tools to help.
Loan Repayment
Managing your student loan repayment is a critical part of establishing good credit and achieving your future financial goals.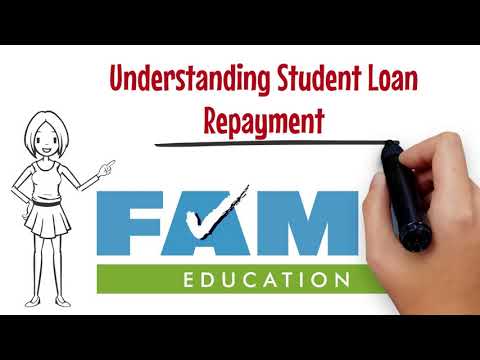 The following steps will help you successfully manage your student loan repayment.
Locate Your Loans

Locate your federal student loans by logging in to StudentAid.gov with your FSA ID (the username and password you used when filing your FAFSA).

Do you have private loans? If so, and you are uncertain of where they are, request a copy of your free credit report at AnnualCreditReport.com and find them among the list of your creditors.
Understand Loan Repayment

There are multiple repayment plan options for your federal student loans. To learn more, watch our Understanding Student Loan Repayment video. To research these options and estimate your monthly payment, visit Federal Student Aid's Loan Simulator.

FAME partners with ECMC Solutions to provide free student loan counseling and support to Maine borrowers as they navigate federal student loan repayment. Contact ECMC Solutions by phone at 1-877-331-3262, or visit their website to connect through email or web chat with a student loan counselor. An ECMC student loan counselor may also reach out to you directly via phone or email before you enter repayment. The team at ECMC also offers a free webinar series to support borrowers as they navigate repayment.

Explore federal student loan consolidation. If you have multiple federal student loans, you may be able to combine them into one loan. Visit Federal Student Aid's Direct Consolidation Loan.

If you have private loans, take this brief Private Loan Repayment Counseling online course to review all that you need to know as you prepare to enter repayment on your private education loans.
Assistance for Repaying Federal Student Loans

Under the Public Service Loan Forgiveness Program, forgiveness may be available if you are employed by a government or not-for-profit organization.

To learn more about other federal forgiveness programs, visit Student Loan Forgiveness.

The federal student loan interest deduction lets you deduct up to $2,500 from your taxable income, if you paid interest on student loans. For details, see IRS Publication 970.
Maine-Based Assistance for Federal and Private Student Loans

You may be eligible for these other programs, offered through FAME, which can help you reduce the amount you need to refinance:

The Student Loan Repayment Tax Credit (often referred to as Opportunity Maine) provides a credit that can be claimed on the Maine state tax return. Learn more about eligibility at OpportunityMaine.org.

The Alfond Leaders Student Debt Reduction Program provides student loan repayment assistance to people who live and work in Maine in a STEM-designated occupation at a Maine-based employer.

Employer programs: Some employers offer student loan repayment as a recruiting tool or an employee benefit. Check with your company's Human Resources office.
Download our handy reference, Managing Your Student Loans in Five Steps.
Student Loan Delinquency and Default
Successful student loan repayment can have a positive impact on your credit history and improve your ability to finance a car or a home in the future. It's important to make your monthly student loan payment on time and in full each month to avoid delinquency and default. Student loan delinquency occurs on the first day you miss a student loan payment; default occurs for most federal student loans when you are 270 days delinquent. Delinquency and default are avoidable, and there are numerous options available should you find yourself unable to afford your monthly student loan payment.
Avoiding Delinquency and Default
Follow these three basic guidelines to avoid student loan delinquency and default:
Guidelines for Avoiding Student Loan Delinquency and Default

Inform your student loan servicer of changes to your name, mailing address, or telephone number so that all correspondence is promptly directed to you.
Read and keep all documents you receive pertaining to your student loans and be sure to understand your loan amount and required payments.
If you are experiencing financial hardship and are unable to make your payments, contact your student loan servicer for information regarding deferment or forbearance.
Consequences of Delinquency and Default
Your servicer will report your past-due loan payment status to all national credit bureaus and will initiate collection actions against you if you fail to make full, timely payments.
What Happens If You Default on Your Student Loan

Defaulting on your student loan can result in:

Long-term damage to your credit rating, which could impact your ability to qualify for other types of loans such as car loans and mortgages
Referral of your student loan to a collection agency
Collection costs that you are responsible to pay
Garnishment of your wages (money deducted from your paycheck)
Withholding of your state or federal tax refunds to be applied to your defaulted loan balance
A civil lawsuit against you, which may result in court costs and legal expenses that you have to pay
Loss of deferment and forbearance options
Loss of eligibility for financial aid
Student Loan Disputes
Learn how to successfully manage disputes with your student loan servicer or contact FAME's Student Loan Ombudsman with questions.
Private Loan Repayment Counseling Course
FAME has developed a brief course that will review all you need to know as you prepare to enter repayment on your private loan. Completing this course is the first step toward successful repayment!