December 17, 2020
FAME Honors Maine Businesses, Educators, and Lenders
FAME HONORS MAINE BUSINESSES, EDUCATORS, AND LENDERS
Awards Bestowed Virtually in Lieu of Annual Dinner Celebration
Although unable to gather in person over dinner with its diverse partners this year, the Finance Authority of Maine (FAME) nonetheless is honoring its annual awardees in virtual fashion and celebrating its 2020 successful business and educational partnerships.
Showcase Maine, FAME's annual celebration of its successful partnerships with Maine's business, lending, governmental, and higher education communities, was cancelled this year due to health and safety concerns related to the pandemic; however, FAME has bestowed awards on some of its partners to recognize their meaningful contributions to the state. The FAME Board and staff recognized this year's recipients via Zoom technology at today's monthly board meeting.
"Although we are unable to gather in person this year, FAME nonetheless believes it is vitally important to honor our partners and provide an alternative means to recognize their contributions to Maine's economic and educational well-being," said Bruce Wagner, FAME's Chief Executive Officer. "We are pleased to honor our partners who help to make Maine's economic and educational futures brighter, especially during these challenging times."
At today's FAME Board meeting, FAME presented the awards virtually and enjoyed remarks by officials representing each of the awardees. This year's award recipients include:
Business at Work for Maine Award:Origin: Origin is being honored for helping to return manufacturing to Maine by revitalizing old textile mill equipment and manufacturing processes. The company

manufactures products for Brazilian Jiu Jitsu, MMA, Grappling and Lifestyle athletes.

To accommodate the company's growth, Origin acquired a new manufacturing space in the heart of Farmington in 2017 with the help of FAME loan insurance and financing through Franklin Savings Bank. The company has continued to expand its product lines into more mainstream apparel including denim jeans and leather boot manufacturing. Origin's Nutritional Division continues to expand its supplement and energy drink business operations, which is experiencing rapid growth. Origin is planning to make real estate improvements at an additional location in North Jay, where the company will add manufacturing and warehouse space for its operations. The Origin companies now employ more than eighty people in the Farmington area. They were recently recognized on the Inc. 5000 list (number 362) as one of the nation's fastest growing private companies. Origin continues to grow at a rapid pace and has built a national and international following.
Education at Work for Maine Award: University of Maine Pulp & Paper Foundation: The University of Maine Pulp & Paper Foundation is being honored for playing an integral role in the transformation and revitalization of the Maine forest products industry. The Foundation helps to create world-class engineers who will become the next great leaders in the industry, while introducing top-notch talent to industry leaders who are looking to hire them. The recent growth of student scholarships, now offering 130 annually to engineering students at the University of Maine who express an interest in pursuing a career in the pulp and paper industry, and the solid support of companies in this space, have created a dynamic and growing organization. Within the next four years, 150 scholarships will be offered annually with the support of nearly seventy corporate sponsors and many more individual donors both in Maine and beyond. The Foundation acts as "matchmaker" between students and employers, as well. This is done throughout the student's academic career, but most notably at the annual "Paper Days" networking event that now hosts over 350 guests including students, university faculty and staff, government officials, and corporate partners from locations nationwide and globally. Students are required to complete two semesters of paid co-op or internship, where they earn $20-25/hour and build on the skills learned in the classroom. They do so while still graduating in just four years. The Foundation also offers "Consider Engineering", a four-day immersive residential summer program on the UMaine campus, to introduce high school juniors to engineering annually. This program is offered free of charge to all students thanks to the financial support of the Foundation's donors and corporate supporters.
Lender at Work for Maine Award ($1.5 billion or more in assets): Camden National Bank: This is the bank's eleventh time as an awardee. Over the past year, Camden National partnered with FAME on 30 loans totaling approximately $3.8 million. This in turn helped to create and retain 408 Maine jobs. In addition to being a top partner in stimulating economic development in Maine, Camden National is actively committed to the communities in which it operates. Founded in 1875, the bank encourages employee volunteerism and makes donations to local nonprofits.
Lender at Work for Maine Award (less than $1.5 billion in assets): Norway Savings Bank: Founded in 1866, Norway Savings Bank has been supporting generations of Maine families and business owners live unique lives. With locations throughout Maine, the bank fosters a culture of giving by encouraging its employees to find ways to contribute to their communities. Each year an employee is honored with the Extra Mile Award for going above and beyond in their volunteer achievements. This past year, FAME partnered with Norway Savings on 26 loans to Maine companies totaling approximately $2.8 million. This helped to create and retain 279 Maine jobs.
Lender at Work for Maine Award (most increased partnership): Franklin Savings Bank: A community bank based in Farmington, Franklin Savings conducts business primarily in Western and Central Maine with commercial services offered in Ellsworth. In addition to its main office in Farmington, the bank has branches in Rumford, Rangeley, Skowhegan, Jay, Wilton and Mt. Blue Campus. FAME partnered this year with Franklin Savings on 13 loans totaling approximately $2.1 million. This helped to create and retain 152 Maine jobs. Franklin Savings is being recognized for its increased partnership with FAME this past year utilizing the agency's commercial loan insurance program. Through its FSB Community Development Foundation, the bank takes pride in its generous support of various causes in the community.
FAME is a quasi-independent state agency that provides financial solutions that help Maine people achieve their business and higher education goals. FAME helps to create a Maine workforce that with good-paying jobs by focusing on the nexus of economic and educational development. FAME recently was recognized for the sixth year in a row as one of the Best Places to Work in Maine. To learn more about FAME, please visit www.famemaine.com.
UMaine Students Papermaking in Lab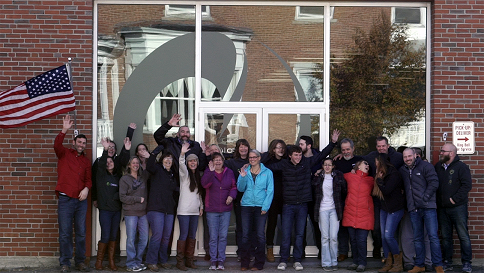 Origin Team