Employees often feel stress about affording higher education — whether it's paying back their own student loans, paying for their children's higher education, or saving for their new baby's future. You can help ease their stress by offering a Financial Wellness Plan — and FAME can help.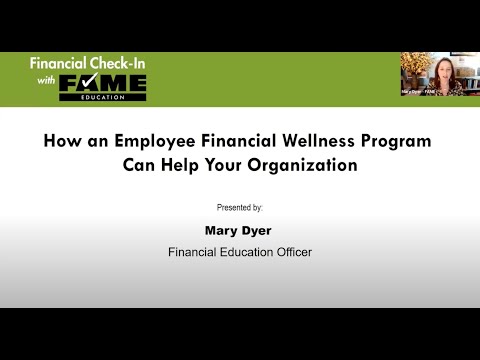 Through FAME, you can offer information about affording higher education to your employees and their families at no cost to you. We're here to help every Mainer navigate the world of affording higher education, from saving and learning about financial aid to student loan refinancing.
FAME provides FREE resources and information, including online financial wellness courses and videos, to help Mainers become more financially savvy.
Tuition Assistance for Employees
Tuition assistance through reimbursement, student loan repayment, and more is a huge benefit for many employees.
Financial Check-In with FAME — Webinars
FAME provides FREE webinars to anyone looking to learn more about preparing for and paying for higher education, including refinancing student loan debt. These webinars are held the first Friday of most months at noon. We also make them available for watching after they have passed.
Download and share this flyer (print or via email) with employees:
Past Webinars
Have You Heard? Understanding Public Service Loan Forgiveness (PSLF) and the Temporary Waivers
May 13, 2022
This session, provided by nationally recognized PSLF expert Betsy Mayotte, explains the eligibility requirements for the Public Service Loan Forgiveness (PSLF) program, as well as the temporary waiver for PSLF that allows borrowers to receive credit for payments that previously did not qualify for PSLF. The temporary waiver ends October 31, 2022! If you are employed by a U.S. federal, state, local, or tribal government (federal service includes U.S. military service), or a not-for-profit organization (including hospitals and colleges) and you have applied for PSLF and been denied, this is the session for you!
Free Digital Financial Wellness Resources for Students and Families
April 1, 2022
Learn about the award-winning financial wellness tools available through Enrich® and iGrad®, powered by FAME. Participants will learn about and have immediate access to free courses, tools, calculators, and an interactive Money Personality tool.
Making College More Affordable
March 4, 2022
There are things you can do to make college more affordable! It starts with understanding how financial aid works and what you can do to get prepared. During the presentation, we'll share information and resources that will help you have more options and the ability to make more informed decisions, ideally resulting in reduced student loan borrowing.
Steps to Creating a Spending Plan to Achieve Your Financial Goals
February 4, 2022
Are you finding it difficult to make regular contributions to your retirement or college savings account? If so, then this webinar will help you learn key steps and strategies for developing a spending plan (also known as a budget) that will help you achieve your savings goals.
NEW RESOURCE: FAME Employer Financial Wellness Roadmap
January 7, 2022
During this session, FAME provides you with an overview of our new employer financial wellness roadmap. FAME discusses current research, best practices and the benefits of offering financial wellness to your employees.
Student Loan COVID Forbearances Ending May 1, 2022
December 3, 2021
Federal student loan payments, suspended as part of COVID relief from Congress, will go back into repayment after May 1, 2022. In this webinar, FAME shares critical information and helpful tips to assist you in successfully navigating re-entry of your student loan repayment.
Saving for Higher Ed – It's a Good Thing!
November 8, 2021
Saving can be hard, but saving even small amounts will make a big difference and result in more options! We'll share helpful information to get you started and debunk some common myths related to financial aid so that you can save with confidence knowing that saving for higher education really is a good thing!
Navigating the Financial Aid and Scholarship Process
October 5, 2021
Our monthly Financial Check-In with FAME, titled Navigating the Financial Aid and Scholarship Process, helps you learn more about what you need to know when applying for financial aid and searching for scholarships. It can be confusing, but we will help you get prepared, explain what you need to do and when, and provide tips and tools to make the entire process as easy as possible!
Videos to Share with Employees
FAME's videos and recorded presentations can help make paying for school a little clearer.
Join Our Mailing List!
Join our mailing list, and we'll regularly share timely tips and tools you can pass on! FAME is also available for presentations (currently virtual) on a variety of topics related to higher education. Let us know if you are interested in a presentation, and we'll be in touch!